Our mission is to promote the holistic development of children and teenagers in vulnerable conditions in the areas of education, health and recreation. This is with the objective of strengthening their entire life and therefore also contributing to the development of their families, their community and society in general.
A project located in Soledad, Atlántico for children between 5 and 10 years old.
With the goal of diminished school dropout and the realisation of the learning potential and academic performance of the children. This is achieved through nutritional support according to their age and specific needs in order to obtain better physical and mental development. Also promoting the integration of healthy eating habits to the school population of the foundation My City with Life.
Youth leadership, effective tool for peace and reconciliation construction
Is a project located in Cartagena, Colombia for adolescents between 14 and 19 years old. The objective is to educate young afro descendants and the victims of forced displacement with the qualities and skills of leadership.
Leadership is taken as a function required to promote, produce and consolidate social or organizational changes, to face problems and to facilitate solutions that require collective actions.
Academic accompaniment and reinforcement of study techniques is designed to improve the academic performance of the students who show academic difficulties, providing organized support during after-school hours.
Psychosocial accompaniment
Supports the combination of Family-School-Foundation allowing direct accompaniment of our children and teenagers and guidance for the access to the services of the State.
Facilitates the entry and permanence in institutions of higher education to young people with the aim of improving the quality of life of the beneficiary and his family through academic support or scholarships.
A pedagogic project for the cognitive and social strengthening of children between 5 and 7 years old, beneficiaries from the foundation Mi ciudad con vida.
This project reinforces the cognitive and social areas in early ages in order to prevent future difficulties in the school environment and train children to be capable of establishing positive relationships with society.
In pedagogy as therapy it is possible to demonstrate that the human being needs in his education a method that is not only directed to his physical development and mental faculties, but that in parallel and with an integral criterion it includes the development of his other faculties related to the emotions from the feeling and the will. The project "EDUTERAPIA" promotes from its objectives and activities to implement spaces to encourage and strengthen social skills and the integral development of the self. We work with children of 8 years of age who are beneficiaries of the Foundation, as an opportunity for a change in behavior and their context of life, based on sustainable human development based on the knowledge and exercise of positive emotions such as assertiveness, love , sharing and being in solidarity to feel harmony and peace.
This project develops social skills in order to train people to be capable of resolving their conflicts in a positive way. Aims to implement learning and experiential activities through communication, listening, respect, human rights and gender equality in 9 and 10 year old children.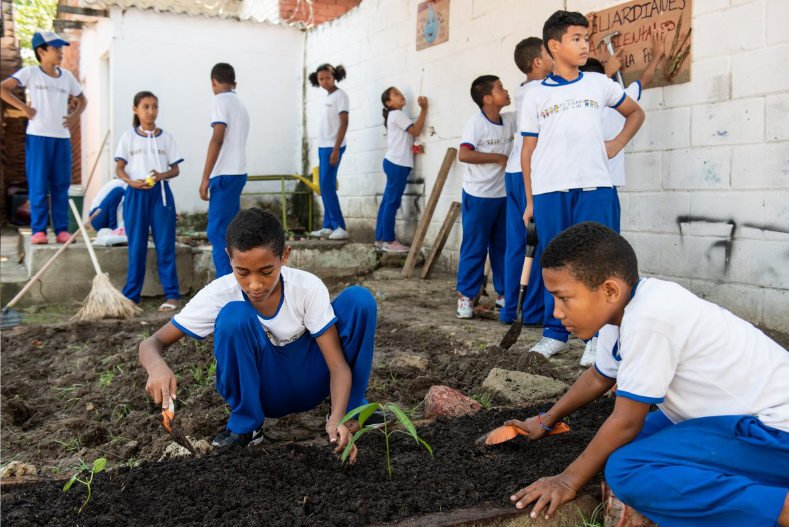 This project generates spaces for the good use of time in children between 10 and 13 years at the Foundation, whose main axis is the creation of an environmental group, which will carry out dynamic environmental activities to achieve a good use of free time and decrease exposure to gangs, drug addiction and early pregnancies.
Provide tools through play and art for the management of interpersonal relationships.
This training project, through reflexive, playful and artistic workshops, recognises drugs and their consequences, as well as providing tools for the construction of their life project. Aimed at Youth between 12 and 15 years of the Foundation.
Training project for the development of leadership qualities and skills, aimed at young people between 14 and 19 years old, belonging to the Foundation, through entrepreneurship and social participation.